Diamond released their
December 2015 comic book sales numbers
, and
DC Comics
had a slightly better than normal month. I've tracked
some
of the
numbers
in the past, and DC usually runs around 25-26% market share while Marvel has a strong lead around 38-40% market share (significantly buoyed by their acquisition via parent Disney of the
Star Wars
titles). In
December 2015
, even against Marvel's Secret Wars and the release of
Star Wars: The Force Awakens
, DC Comics grabbed a
29.93% market share
of units sold and a 29.32% market share of retail dollars.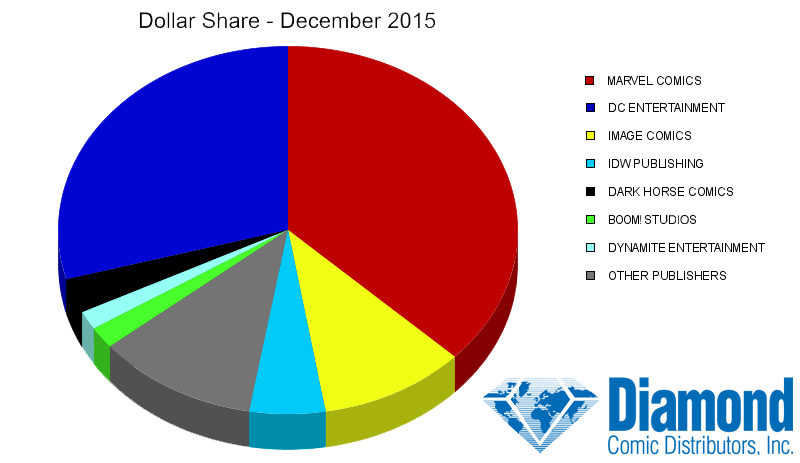 Although I'd like to see better sales numbers for the
Superman
titles, it is really Batman and Harley Quinn that are leading the DC pack. The top book for DC was the much anticipated
Dark Knight III: The Master Race
, and the regular
Batman title
plus the crossover with IDW -
Batman Teenage Mutant Ninja Turtles
#1 - also appeared in the Diamond Top 5.
Harley's Little Black Book
#1 was in the Top 10 and on the graphic novel side,
Harley Quinn
volume 2 and volume 3 both appeared in the Top 10. The graphic novel setting the stage for
Batman v Superman: Dawn of Justice
(March 25th, 2016) also sold well, as the
Batman vs. Superman
trade paperback came in as the 4th bestselling graphic novel of the month.
One way to look at these numbers is that Batman and Harley Quinn are very popular, while the rest of DC's line is down. The way I prefer to look at it, though, is that the DCYou initiative launched in the first half of 2015, with it's increased diversity and expanded creator control, is gradually reaping benefits, led of course by the popularity of Batman. I hope in the near future to see some new statistics about comic book readership, because early signs for the DCYou were
positive in terms of reaching new readers
, and if those demographics have remained, I think DC might be able to reach 30% market share in 2016.